Experienced home appraisals in

Fuquay-Varina

, Raleigh, Durham, Chapel Hill, Cary, Apex, Holly Springs, Garner, Clayton, Smithfield, Wake Forest, Zebulon, Wendell and other Triangle cities
Serving Wake County, Durham County, Johnston County, Orange County and Chatham County
---
When Should You Consider A Home Appraisal?
Raleigh-Durham Appraisals
Leading provider of Fuquay-Varina values
Phone: 919-379-3833
Fax: 1-866-480-1483
Cell: 919-810-0033
for Patrick Jones
info@raleighdurhamappraisals.com
FUQUAY-VARINA, NORTH CAROLINA -- When a loan is involved in the sale, purchase or refinancing of a home, a certified appraiser is usually involved. Banks, credit unions and other lenders require a home appraisal by a certified appraiser to be assured that the money being lent can be recovered in full in case of a default by the borrower. Sellers want to make sure they are getting the fair market value for their home and can sell it within a reasonable timeframe. Buyers want the peace of mind to know that they are not overpaying for a property. Buyers, sellers and lenders look to the expertise and experience of a qualified residential appraiser for this oftentimes detailed analysis. Raleigh-Durham Appraisals can provide this service for you.
There are other reasons to consider the services of a real estate appraiser.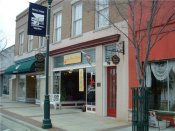 Fuquay-Varina home appraisers
Prelisting Pricing
A critical decision that every home seller needs to make regards the correct listing price.
Deciding on the correct listing price can assure that the house sells within a reasonable timeframe (particularly critical in a down real estate market) so that is does not sit on the market for an extended time and become a "stale" listing that is even harder to eventually sale at a fair market price.'
Raleigh-Durham Appraisals can guide you in making these important decisions. Appraisers have no vested interest in how much a home sells for (as does a real estate broker) so you are more likely to get an impartial, objective and independent opinion of value. Obtaining a professional appraiser can save home sellers tremendous amounts of time and money rather than listing the home above market value and enduring the extended marketing costs and frustrations that come with increasing days on the market and no serious buyers.
PMI Removal
Private Mortgage Insurance is the additional insurance premium that lenders require when the amount of the loan exceeds more than 80% of the home's value. Many lenders tack on the PMI to the mortgage payments. When the balance of the loan drops under 80% of the home's value due to paying down the loan, appreciation of the house, or a combination of both, the PMI can be removed. Lenders are required by consumer protection laws to remove the PMI payments when the LTV (loan-to-value) 80% or less ratio conditions become effective.
An appraiser can provide you with a report on the value of the home.
Estate Planning, Liquidation or Divorce
Sometimes appraisals are required because of difficult life events, such as a divorce or the death of a loved one. Raleigh-Durham Appraisals is experienced in home appraisals used in equitable distribution of assets in divorce proceedings. We also provide appraisals used in estate settlements upon the death of a homeowner. Executors often rely on home appraisers during the dispositions of estates. For many people, a majority of their total assets is tied up in their home ownership.