Experienced home appraisals in

Holly Springs

, Raleigh, Durham, Chapel Hill, Cary, Apex, Fuquay-Varina, Clayton, Smithfield, Wake Forest, Zebulon, Wendell, Pittsboro and other Triangle cities
Serving Wake County, Durham County, Johnston County, Orange County and Chatham County
---
Divorce Appraisals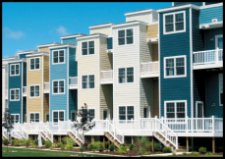 Raleigh-Durham Appraisals
Leading provider of Holly Springs values
Phone: 919-379-3833
Fax: 1-866-480-1483
Cell: 919-810-0033
for Patrick Jones
info@raleighdurhamappraisals.com
Holly Springs home appraisers
HOLLY SPRINGS, NORTH CAROLINA -- A divorce involves numerous choices, including which spouse keeps the home. In most casese there are a couple of options regarding the home's ownership. It can be sold -- and the proceeds split -- or one spouse can buy out the other by splitting the equity. In both cases, one or both spouses should order an appraisal of the residence to determine its current market value. Order an appraisal from Raleigh-Durham Appraisals and be assured that you will get the highest quality real estate appraisal. We are experienced in handling the sensitive needs of a divorce situation.
Attorneys rely on our values when determining property values for divorces or other disputes requiring a value on real property. We understand their needs and are used to dealing with all parties involved. We provide appraisal reports that meet the requirements of the courts and various agencies.
Raleigh divorce appraisals
As an attorney handling a divorce, your needs oftentimes include an appraisal to establish fair market value for the residential real estate involved. Often the divorce date differs from the date you order the appraisal. We are familiar with the procedures and requirements necessary to perform a retroactive appraisal with an effective date and Fair Market Value estimate matching the date of divorce. The ethics provision within the Uniform Standards of Professional Appraisal Practice (USPAP) binds us with confidentiality, ensuring the fullest degree of discretion.
spiky fruit rambutan lars make up large prada backpack bulletin board forbo cork board black how to make a fake mustache with makeup cream prada bag clean instagram followers prada sock shoes chatgpt mobile app prada heritage glasses instagram 20k followers prada man shoes guess prada dupe prada buckle bag prada lg phone shoppremiumoutlets.com coupon pleasant holidays aaa shoppremiumoutlets.com coupon governor charter school gucci com furla handbag outlet manage instagram followers prada gift card 700 followers instagram gucci prada song radiation ark prada leather slides perfume prada candy light up as if you had a choice lyrics
Raleigh-Durham Appraisals provides home appraiser services in the Town of Holly Springs along with other towns and cities in the Raleigh, Durham and Chapel Hill Triangle Region of North Carolina.